New Hampshire Bar Exam Information

---
New Hampshire Supreme Court Office of Bar Admissions
4 Chenell Drive, Suite 102
Concord, NH 3301
Phone: (603) 224-8806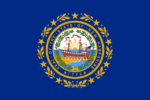 Subjects and Topics Tested
New Hampshire is a Uniform Bar Exam (UBE) jurisdiction. The UBE consists of the Multistate Bar Exam (MBE), Multistate Essay Exam (MEE) and the Multistate Performance Test (MPT). The New Hampshire bar exam may test the following subjects:
MEE Subjects
Agency & Partnership
Business Associations
Conflict of Laws
Family Law
Secured Transactions (U.C.C. Article 9)
Wills & Estates
Trusts
MBE Subjects
Civil Procedure (Federal)
Constitutional Law
Contracts (including U.C.C. Art. 2 – Sales)
Criminal Law & Criminal Procedure
Evidence Law
Real Property
Torts
Scoring and Grading
A passing score on the New Hampshire bar exam is 270 on a 400-point scale. The MBE is weighted 50%. The MEE is weighted 30%, and the MPT is weighted 20%.
Bar Exam Dates
The New Hampshire bar exam is administered twice per year – once in February and once in July.
Upcoming Exams
2017: July 25-26
2018: February 27-28 and July 24-25
Bar Exam Results
New Hampshire bar exam Results are typically released in late April for the February exam and late September for the July exam.

Bar Exam Format
The Uniform Bar Exam (adopted by New Hampshire), has the written components on Tuesday and the multiple choice component (MBE) on Wednesday
Tuesday
During the 3-hour morning session, 2 MPT questions are administered. This allows an average of 1.5 hours to complete each. During the three-hour afternoon session, 6 MEE questions are administered, allowing an average of 1.5 hours to answer each essay question.

Wednesday
100 MBE questions are administered in the 3-hour morning session, and 100 MBE questions are administered in the 3-hour afternoon session.

Reciprocity
To qualify for reciprocal admission, an attorney who has graduated from an ABA approved law school may be admitted on motion in the following situations:

1) scored at least 270 on the UBE in another jurisdiction within 3 years of the Motion for Admission, or the UBE score was achieved between 3 and 5 years and the applicant has been engaged in the practice of law in another jurisdiction for at least 2 years; or

2) licensed, active, and in good standing in another state, territory, or district of the United States, met educational qualifications equal to those in New Hampshire at the time of admission, and have actively and substantially engaged in the practice of law for 5 of the 7 years immediately preceding the application for admission.

Save
Save
Save