Kansas Bar Exam Information

---
Kansas Board of Law Examiners
Kansas Judicial Center
301 SW 10th Avenue, Room 374
Topeka, KS 66612-1507
(785) 296-8410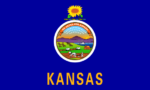 Subjects and Topics Tested
Kansas is a Uniform Bar Exam (UBE) jurisdiction. The UBE consists of the Multistate Bar Exam (MBE), Multistate Essay Exam (MEE) and the Multistate Performance Test (MPT). The Kansas bar exam may test the following subjects:
MEE Subjects
Agency & Partnership
Business Associations
Conflict of Laws
Family Law
Secured Transactions (U.C.C. Article 9)
Wills & Estates
Trusts
MBE Subjects
Civil Procedure (Federal)
Constitutional Law
Contracts (including U.C.C. Art. 2 – Sales)
Criminal Law & Criminal Procedure
Evidence Law
Real Property
Torts
Scoring and Grading
A passing score on the Kansas bar exam is 266 on a 400-point scale. The MBE is weighted 50%. The MEE is weighted 30%, and the MPT is weighted 20%.
Bar Exam Dates
The Kansas bar exam is administered twice per year – once in February and once in July.
Upcoming Exams
2017: July 25-26
2018: February 27-28 and July 24-25
Bar Exam Results
Kansas bar exam results are typically released 9-10 weeks after the exam is administered. The names of those applicants who passed is posted on the Kansas Bar Examining Committee website.

Bar Exam Format
The Uniform Bar Exam (adopted by Kansas), has the written components on Tuesday and the multiple choice component (MBE) on Wednesday
Tuesday
During the 3-hour morning session, 2 MPT questions are administered. This allows an average of 1.5 hours to complete each. During the three-hour afternoon session, 6 MEE questions are administered, allowing an average of 1.5 hours to answer each essay question.

Wednesday
100 MBE questions are administered in the 3-hour morning session, and 100 MBE questions are administered in the 3-hour afternoon session.

Reciprocity
To qualify for reciprocal admission, an attorney must:
1) have an active law license in another jurisdiction that permits mutuality of admission without examination for members of the Kansas bar; and
2) have actively practiced law for 5 of the past 7 years.
Kansas permits admission on a transferred UBE score of 266 within 36 months of when the score was attained.
Save
Save
Save